Each and every year a new cadre of would-be prognosticators appears, proclaiming the demise of email marketing. Yet somehow, each and every year, these proclamations turn out to be dead wrong. Email marketing is alive and well – and it's likely to stick around for the foreseeable future.
The reasons for this are relatively straightforward. First, it is nearly impossible to sign up for anything or to conduct any type of commerce online without an email address. In addition, people rely on email in their professional and personal lives. This makes its use nearly ubiquitous in modern society – cutting across demographic lines, including culture, age, and socioeconomic status.
Email marketing is here to stay. It is almost impossible to sign up for online services or make purchases online without an email address.
The proliferation of handheld smart devices further increases the consumption of email as well; it's hard to not use a communication tool that is always in your pocket and fits in the palm of your hand. Mobile consumption of email has also been proven to drive secondary interactions with content; some 23% of users who open an email on a mobile device open it again later.
As organizations continue to develop their applications and analysis of big data, they have found that the information gathered from email marketing channels significantly complements the performance of other pieces of their inbound marketing strategy, including content, social media, and PPC campaigns. As raw lead generators, few other tools in the marketers' toolkit have the power of email marketing.
Finally, you can always follow the money. One study shows that every $1 spent on email marketing generates $44 in return. Organizations that don't implement an email marketing program are clearly missing out.
Email and Inbound Marketing
To create a successful email marketing program, you must first understand its overall role in your marketing strategy. In the four major steps of inbound marketing methodology, email-based programs are deployed in the "Close" and "Delight" stages, after you have initially attracted interest in your product or service and converted your visitors into leads with an offer.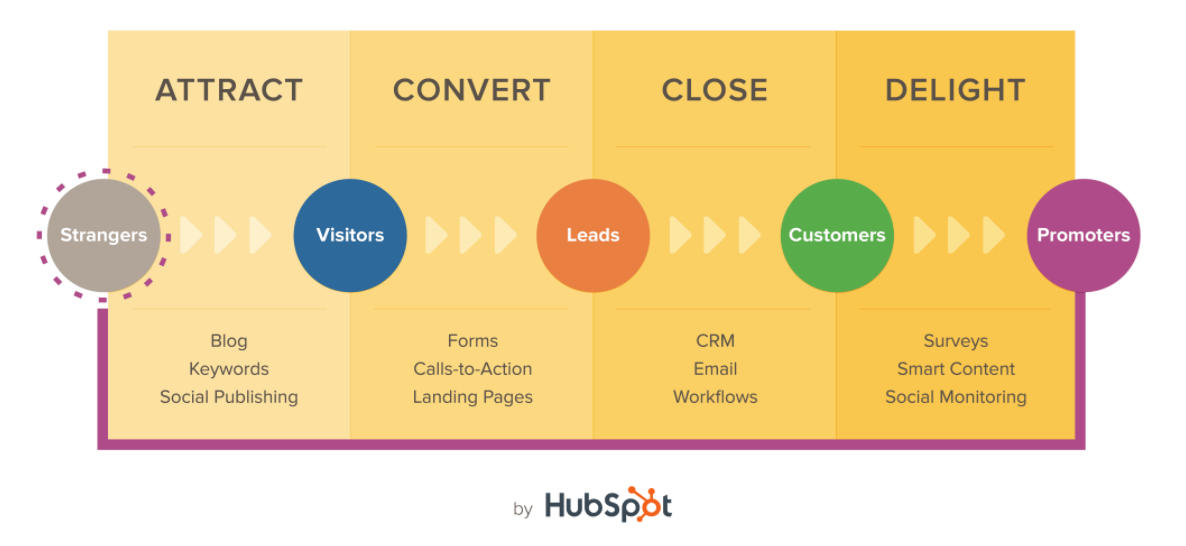 During the "Close" stage, you turn your leads into customers by nurturing them, building trust, and continuing to provide them with valuable information and content. Once they have purchased, you progress to the "Delight" stage, and keep the communication channels open by providing them with more useful information, such as new practices or uses of your product or service, special offers, and customer support.
The Four Characteristics of Successful Email Marketing Campaigns
Now that you know where your email marketing campaign fits into your overall strategy, you'll want to make sure it possesses the following characteristics:
Personalized – Every communication you send must be relevant and worth their time. Never purchase lists; unsolicited emails typically have dramatically lower open, click-through, and subscription rates, and significantly higher complaints and spam reports. Also, be willing to let your subscribers go; if they want to opt-out, make it easy for them to do.
Persuasive – Make sure every email you send makes a persuasive case for a specific action. Brush up on the fundamentals of copywriting and present information in a clear and compelling manner. Your emails should appeal to your target personas at a specific point in the customer journey.
Pervasive – The number of emails accessed on mobile continues to grow. Ensure that your messaging displays properly across all the devices commonly used by your target audience. At the bare minimum, that means using mobile-friendly formats.
Proven – One of the biggest advantages of email marketing is that almost every aspect of the campaign can accurately be analyzed in terms of real, actual, performance-based data. Take advantage of this – test early and often to boost performance over time.
Now let's take a more detailed look at the first two characteristics, Personalized and Persuasive, and how you can incorporate them in your email marketing campaigns.
Request a consultation with a web expert
Creating Personalized Emails
The first characteristic of successful email marketing campaigns is that they are personalized for the recipient. Before you begin writing any content, you should already have done the research necessary to construct:
Personalization is one of the best tools for creating effective emails. Always consider your buyer personas and where they are in the customer journey.
Next, you'll want to decide what type of email to send. Regardless of which you ultimately select, ensure that your messaging is customer-centric and focused on demonstrating value. Here are five of the most common types of email messages:
Foundational – Typically seen in initial messages or umbrella communications, foundational emails create a common basis and foundation for further engagement with readers. This type of messaging provides continuity in your campaign, is sent at regular intervals, and should normally be kept content-centric in nature. An example of this type of email is a monthly newsletter.
Promotional – Promotional emails are direct incitements to purchase. They create product awareness and expand your share-of-wallet. Conversion paths for these emails are usually quick and direct, featuring urgency, brevity, clarity, and a strong CTA directly focused on the specific offer at hand. This type of email includes special offers and promotions from vendors.
Informational – Lead nurturing is best accomplished with informational messaging. Educating leads and clients helps build trust and establish brand expertise, allows you to share critical alerts or reminders, and helps you drive traffic to your other content. Informational emails include helpful, thought leadership bulletins to establish authority and credibility.